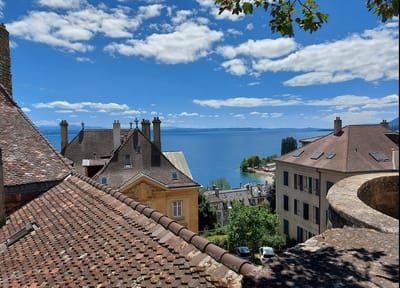 You'd be forgiven for thinking that such a beautiful and idyllic place as Neuchâtel was nothing more than a tourist destination with only it's attractions to show— you'd be wrong.
For centuries, Neuchâtel and its neighbours, La Chaux-de-Fonds and Le Locle, on the western side of Switzerland, have been at the heart of watchmaking, and therefore made for a perfect destination for the KG&S brand.
What better place to start our horological journey. The 17th century might actually be considered late to watchmaking when you think that records show as early as 1554 that watchmakers were working in Geneva—not a million miles away; and even they were at least a century behind the first recorded makers of mechanical timepieces, across the borders in France.
That said, it didn't really matter that the Jura mountains weren't the first to bring watchmaking to Switzerland. The truth is, there's always going to be debate over who was. The one fact that remains though is that even to this day the region is very much still at the heart of watchmaking, albeit on a smaller scale than its sister regions, who produce giants such as Rolex, Patek, and other better known names.
So now we know a little about why we chose Switzerland, let's look more into our evolution...
KG&S was born by accident as a result of one man's diagnosis of a Brain Tumour. He decided that rather than dwell on the negatives of such a condition, he'd choose to turn this into a positive by putting his lifelong passion of horology, and his desire to raise awareness and funds for research of both brain tumours and cancer into action. He chose to use social media as a platform to combine both passions with little or no idea it was to turn out the way it has.
"For every goal there has to be a target, for every target there has to be a reason for the goal." (Green: 1988.)
This was the driving force behind the brand, for as already mentioned, it was more accident than design that the brand was created. From a seedling of a thought—a metaphoric oak tree has grown.
But as with all trees, they must be nurtured; sown on a solid foundation so to speak. It was here that eminent Slovakian watch company
Biatec
came into play lonng with a couple of very capable watch making entrepenuers from Switzerland who expressed interest in becoming involved.. One of their founders was kind enough to donate one of his pieces for our
fundraising
. This started dialogue which was to the very existence of our brand. It was quickly figured out that everyone could benefit, from Peters' strategic position, both in location and experience, and the obvious benefits an already Swiss established watchmaker facilities could offer. A partnership was inevitable and thus formed.
But with the best will in the world, to achieve any level of success would take huge resources, from the workshops to the warehousing and distribution. Everything costs money. Biatec had already been in play for some years and could cater for the storage and distribution, but more importantly for the brand, it was a third phase— third door quality control. Everyone was more than impressed by Peters' eye for detail, and that was something that simply couldn't be overlooked.
KG&S was beginning to form a solid foundation with what was adding up to be many decades of experience in manufacturing and distribution. Having bases in both Switserland and Slovkia meant synergistic autonomy, in that this formed a creative think-tank of like minded enthusiasts, expert watchmakers and designers and keen entrepenuers. The brand could play off one another's strengths and create what was believed will come to being a game-changer in the watch industry. Something all at KG&S all look forward to., The fact that the causes so important, namely cancer and brain tumour chairities are to benefit meant the legacy was born.